INDORE: IDA TO RAISE RS 500 CRORE THROUGH BONDS FOR SUPER CORRIDOR'S DEVELOPMENT
Posted Date: Jun 16, 2018 | Posted By : DCNPL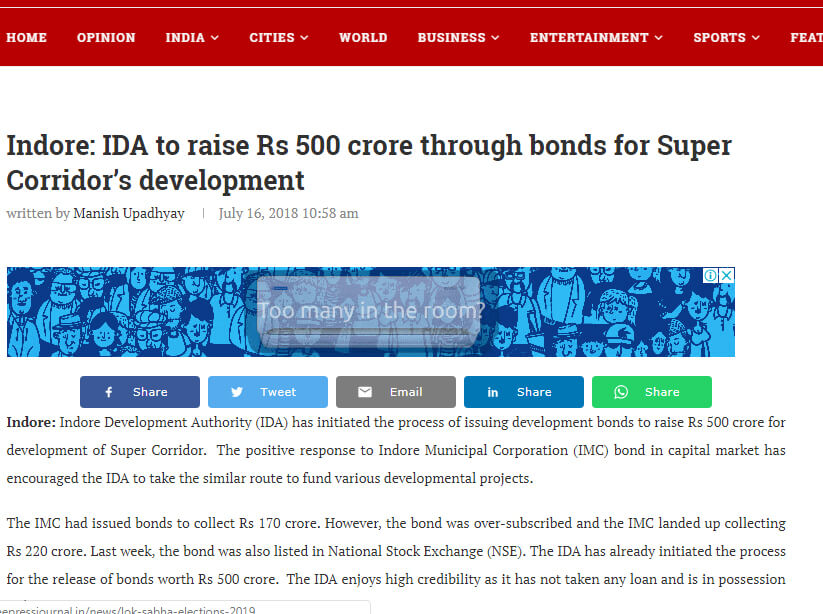 Indore: Indore Development Authority (IDA) has initiated the process of issuing development bonds to raise Rs 500 crore for development of Super Corridor. The positive response to Indore Municipal Corporation (IMC) bond in capital market has encouraged the IDA to take the similar route to fund various developmental projects.
The IMC had issued bonds to collect Rs 170 crore. However, the bond was over-subscribed and the IMC landed up collecting Rs 220 crore. Last week, the bond was also listed in National Stock Exchange (NSE). The IDA has already initiated the process for the release of bonds worth Rs 500 crore. The IDA enjoys high credibility as it has not taken any loan and is in possession of 'ready to sale' assets worth more than Rs 2000 crore.
Principal Secretary, Urban Administration Department, dropped broad hints about IDA bonds during bell ringing ceremony of the IMC bond held at NSE last week.
Total Rs 1600 crore project
The bond money will be spend on Super Corridor's development. Though project's estimated cost is around Rs 1600 crore, the rest of the fund will be arranged by the IDA itself. Super Corridor, which boasts of the finest road in the state and state's first eight-lane Rail Over Bridge (ROB), starts from Airport and ends at Bhorasla Ujjain Road. The traffic density has been on the rise ever since it's opening. Now authority wants to develop both sides of the corridor by spending Rs 1600 crore. Work entailing cost of Rs 300 crore is already underway.
New city emerging at Corridor
Super Corridor area is considered as the new emerging city in the western part. Two IT majors of the country — TCS and Infosys – have already operationalise their campus. Two prestigious educational institutional — Narsee Monjee University and Symbiosis University – too are functional. Besides, several posh residential colonies too are coming up on both sides.
Super Corridor road better than Washington DC: CM
Super Corridor came into limelight a few months back, when Chief Minister Shivraj Singh Chouhan had declared corridor road better than the one in Washington DC.
Shankar Lalwani, chairman IDA
Yes, it is true that Indore Development Authority is bringing development bond of Rs 500 crore. The fund collected from the bond will help in further development of the corridor and turn it into a world class road.
Kumar Purushottam, CEO IDA
The process of issuing the bond is underway. This will add to authority's credibility. Action has now begun to achieve rating. Solid financial status will pave the way for a better rating.
Source :
https://www.freepressjournal.in/latest-news/indore-ida-to-raise-rs-500-crore-through-bonds-for-super-corridors-development/1316826
BEST EVER BUILDER
Time to enhance your live presence!