Best Real Estate Project of Indore
DCNPL Greens Ville

DCNPL GreensVille Indore, a new landmark of excellence in the making at 4 Lane SH 27 Indore – Ujjain having best plots in Indore.
DCNPL GreensVille Indore is a gated residential township that comprises of best residential plots in Indore, which are being getting developed by DCNPL Pvt. Ltd. Indore.
This would be a great opportunity to live right at 4 Lane State Highway 27 Indore – Ujjain amidst all the luxuries right on 4 lane SH 27 very adjacent to Ankur Rehabilitation Center & Hospital Indore. The residential plots in DCNPL GreensVille Indore offers plots in various sizes ranging from 850 Sq. fts. to 4000 Sq. fts. that speak volumes about the refined living experience.
The modernist township is tastefully designed, creating visual pathways of discovery for the natural beauty of surrounding landscape on each side with open planning that filters natural light. Considered as one of the finest examples of living in Indore, each plot boasts of stunning views of the Gardens and beautiful panoramas of the landscape.
A splendid temple & Garden extends leisure to the doorstep. Apart from providing amenities such as Temple, gardens, jogging track and various other recreational facilities for children and senior citizens, the project provides a wholesome environment through demarking of green open spaces, where the families can look forward to unwind and relax.
Trust and reliability: With the legacy and prowess of DCNPL behind the project, best of quality is assured as well as transparency and high integrity in all aspects.
After setting the benchmark in the Industrial & commercial segment by developing & delivering some top-notch quality projects & properties, DCNPL has come together to offer this residential project that underlines their commitment towards extending a high quality living experience.
Starting with a world-class in house team of design, landscape & structural experts, DCNPL GreensVille Indore has been designed to surpass expectations at every level. The result is astonishing township with breathtaking views, bold, inspiring designs, gracefully nuanced finishes and a level of development that's at par with excellence in residential development.
The premium real estate property is easily accessible, situated amongst the bestinternational educational institutions, multispecialty hospitals, hotels and Airport. In addition, good connectivity, ongoing constructions of IT majors like TCS & Infosys in the vicinity, better infrastructure facilities and return on investment in comparison to other localities of Indore, DCNPL GreensVille Indore remains the best bet for a complete living experience.
With plots starting at an optimal price of Rs 28.98 Lacs, DCNPL Hills Vistaa Indore remains a true value for money proposition.
Our Properties
Total Size
850-3000 Sq Ft.
Parking
Yes
Price
Starting at 32.23 Lakhs, 3910 INR per sq ft.
Contact Details

City Office:29/2, South Tukoganj, Near Bhoraskar Hospital, Indore(M.P.)-452001

Mobile - 07722991999

Site Location:SH-27, Indore-Ujjain Road, Near Aurobindo Hospital, Revti Hills, Indore(M.P.)

Mobile - 07722990999

Email - info@dcnpl.com / neelesh2999@gmail.com
Highspeed WiFi :
Unlimited (High-Speed Internet, Avl. at extra cost)
Parking :
Avl. as per Availability, Dedicated (Avl. at extra cost)
Power Backup :
24 Hours Backup - lights & fans only.
Housekeeping :
Alternate Days.
TV :
1 per flat, 40 Inch, LED TV (Avl. at extra cost)
Kitchen :
Kitchen with Induction Cook Top
Refrigerator :
Available in each flat. (Avl. on extra cost)
Washing Machine:
Available at extra cost.
Almirah :
Avl. in Bedroom.
Bed :
King Size in bedroom with mattress, blanket & all other bedding accessories.
Bathroom :
All equipped with geyser along with all basic bathroom accessories.
CCTV :
Fully covers all common areas.
Security :
King Size in bedroom with mattress, blanket & all other bedding accessories.
In Room Dining :
Avl. at extra cost.
AC :
AC (Avl. at extra cost)
4 Lane State Highway 27 Indore-Ujjain, Near Super Corridor & Adjacent to Aurobindo Hospital Indore(M.P).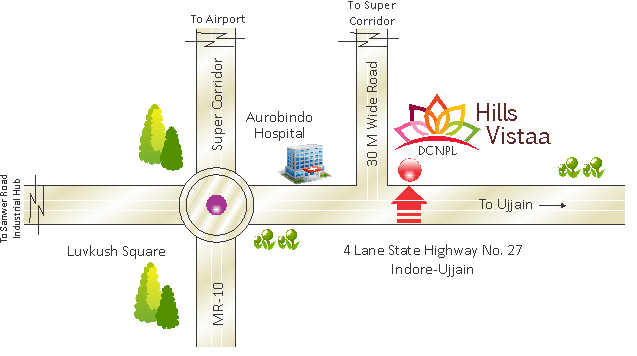 Layout Plan
Enquire Now
DCNPL Greens Ville Walkthrough
BEST EVER BUILDER
Time to enhance your live presence!