INDORE: IDA TO RAISE MP'S FIRST 25-STOREYED BUILDING AT SUPER CORRIDOR
Posted Date: Jul 26, 2018 | Posted By : DCNPL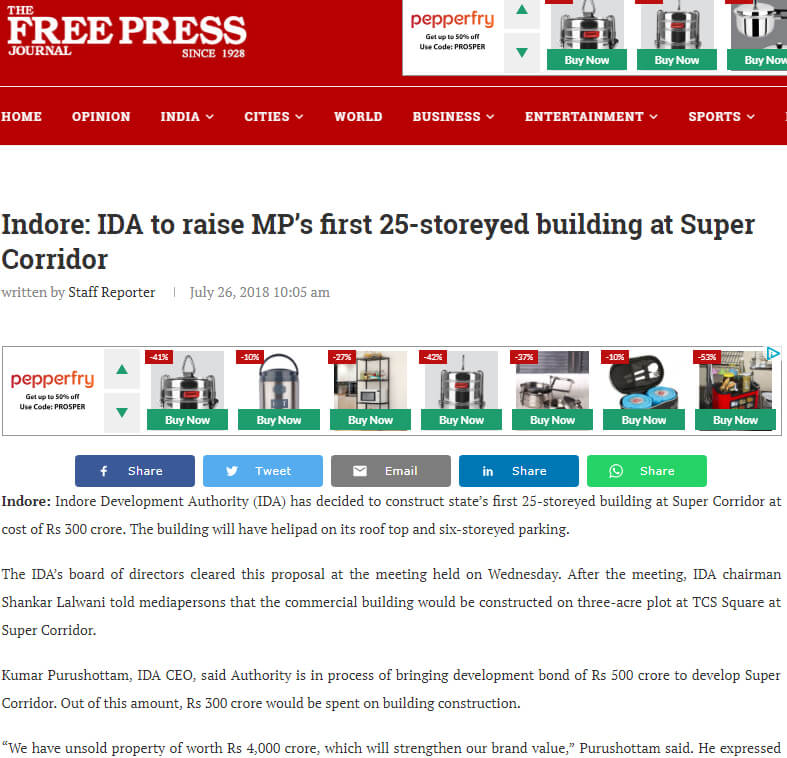 Indore: Indore Development Authority (IDA) has decided to construct state's first 25-storeyed building at Super Corridor at cost of Rs 300 crore. The building will have helipad on its roof top and six-storeyed parking.
The IDA's board of directors cleared this proposal at the meeting held on Wednesday. After the meeting, IDA chairman Shankar Lalwani told mediapersons that the commercial building would be constructed on three-acre plot at TCS Square at Super Corridor.
Kumar Purushottam, IDA CEO, said Authority is in process of bringing development bond of Rs 500 crore to develop Super Corridor. Out of this amount, Rs 300 crore would be spent on building construction.
"We have unsold property of worth Rs 4,000 crore, which will strengthen our brand value," Purushottam said. He expressed hope that muliti-national companies and blue chip PSUs may set up offices or invest in city because of the building, which will have world class facilities and will be constructed near airport.
The project report is ready and IDA will float tender soon. The construction of the building is likely to start in six months and will be completed in two and a half years.
Salient features of 25-storeyed building
It will be 75-metre high
It will be a green building with minimal use of electricity
Three-storeyed parking to be under ground and three storeys above ground. To be illumined with solar energy
5,000 square feet of open commercial space
Gym and recreational centre on fourth floor
5th floor to have food court and two big conference halls
There will be two open terraces
Space booking price will be Rs 4,400 square feet
IDA's other decisions
To develop cultural centre at Meghdoot Garden. Consultant would be appointed soon.
IDA to name its schemes after names of flowers
Inter-state bus terminal to be built at Kumedi for Rs 40 crore
The width of proposed elevated four- lane corridor at BRTS from LIG Square to Navlakha to be reduced from 19.5 metres to 16 metres. As a result, its cost will reduce from Rs 615 crore to Rs 464.09 crore. Project DPR to be sent to union road transport ministry.
Source :
https://www.freepressjournal.in/latest-news/indore-ida-to-raise-mps-first-25-storeyed-building-at-super-corridor/1322267
BEST EVER BUILDER
Time to enhance your live presence!