INDORE: IDA PULLS PLUG ON AMBITIOUS HIGHRISE PROJECT FOR NOW
Posted Date: Feb 22, 2019 | Posted By : DCNPL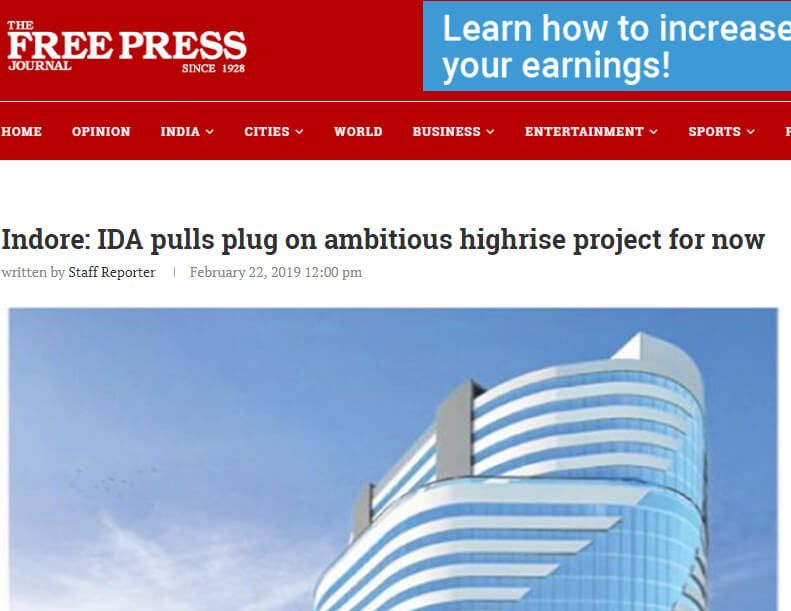 Indore: Indore Development Authority (IDA) puts the very ambitious project of 25-storey building at Super Corridor in suspense. The tender for the highrise was cancelled during the board meeting of directors of IDA on Thursday. The future of the highrise seems uncertain as IDA has cancelled floating tender for construction of the building which was proposed on July 25, 2018.
The high rise building was proposed to be constructed on a three acre plot at TCS Square at Super Corridor. During the meeting IDA officials said the highrise may be constructed on a public-private partnership (PPP) funding model or any other alternate method. IDA will prepare a new project detail and inspect the proposed plan following which the board of directors will be informed about it.
The meeting was presided over by divisional commissioner and IDA chairman Akash Tripathi and IDA CEO Vivek Shortriya. Earlier IDA decided to bring a bond of Rs 500 crore for the development of Super Corridor. Out of this amount, Indore Development Authority had proposed Rs 300 crore building project which also received a nod from the High Rise Building Committee on September 7, 2018.
The highrise was proposed to be the tallest building in the state with a height of 75 meters. A mall and an IT company were also proposed to be opened in this building. It was also proposed that there will a five-star hotel on the 5th floor, helipad on its roof top and six-storeyed parking. After the project report was ready in July 2018, IDA had expected to start the construction of the building in six months and it was assumed to be completed in two and a half years.
Source :
https://www.freepressjournal.in/indore/indore-ida-pulls-plug-on-ambitious-highrise-project-for-now/1466189
BEST EVER BUILDER
Time to enhance your live presence!