Indore: Design of start-up complex finalised
Posted Date: Monday, May 22, 2023 | Posted By : DCNPL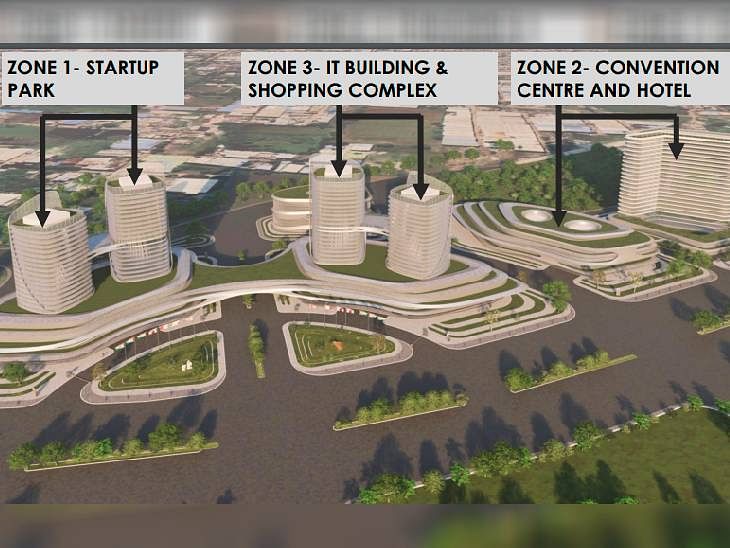 First phase to be completed by end of financial year for Rs 508 cr
Indore (Madhya Pradesh): The design of the state's biggest start-up complex to be built on Super Corridor has been finalised and now it will be built in three phases. The first phase will be completed in this financial year on 22 acres of land for Rs 508 crore. The first phase will have a shopping mall, amenities, start-up offices, corporate offices and a parking tower.
CEO RP Ahirwar said that there will be 6 floors on 50,000 square feet and the remaining 11 floors are on 20-20 thousand square feet of land. There is a basement of three floors and also there will be a mall.
The building will be 27 floors and 87.5 metres high. Tenders will be floated by the end of June after the DPR is prepared in June.
Start-up Park at a glance
A start-up park is being built on 22 acres of land on the Super Corridor by the Indore Development Authority. The Start-up Park will be about 5.5 kms from the new ISBT at MR 10 and about 12 kms from the airport and near the metro station. Start-up Park is being built with a potential capacity of 20,000 people.
What in which phase?
Phase-1: Shopping mall, amenities, start-up office, corporate office and parking tower will be built.
Phase-2: IT building
Phase-3 convention centre and 5-star hotel will be built.
Start-ups in state
There are around 2600 start-ups in the state out of which 1000 are in Indore. There are several start-ups including toy cluster, furniture cluster, namkeen cluster in the state.
https://www.freepressjournal.in/indore/indore-design-of-start-up-complex-finalised
BEST EVER BUILDER
Time to enhance your live presence!