IDA TO START WORK ON UNDERGROUND DUCTS IN SUPER CORRIDOR
Posted Date: May 15, 2017 | Posted By : DCNPL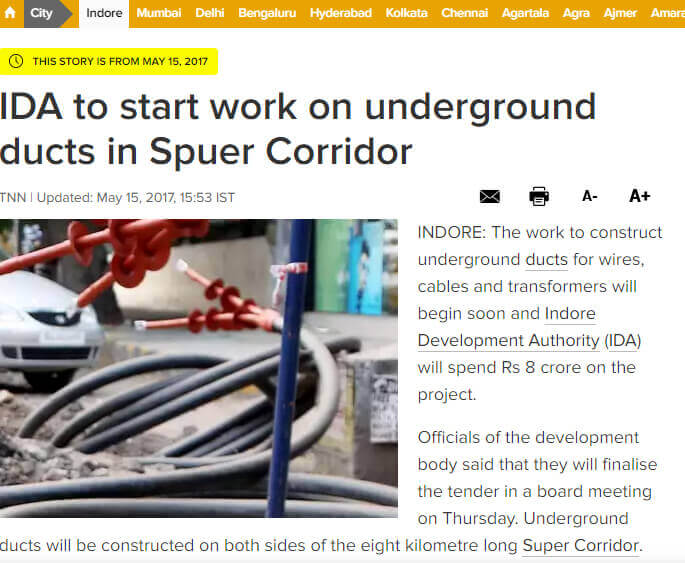 INDORE: The work to construct underground ducts for wires, cables and transformers will begin soon and Indore Development Authority (IDA) will spend Rs 8 crore on the project.
Officials of the development body said that they will finalise the tender in a board meeting on Thursday. Underground ducts will be constructed on both sides of the eight kilometre long Super Corridor.
"The ducts will cover eight kilometres on both sides so the total distance will be 16 kilometres," said Shankar Lalwani, chaiman, IDA.
Officials said the project will start as soon as the board approves a tender, it will take a few months to complete.
However, to ensure that companies like TCS and Infosys do not face problems as they set up their premises in the area, the development authority has come up with a temporary solution.
Electricity and other cables are being provided through a usual underground system and not through the system of ducts.
Lalwani said that once the ducts are prepared, the lines will be transferred to the them. He added that they will not face problems transferring cables.
"The temporary system is being built in such a way that it will not require any major digging on roads or other structures to transfer wires and cables," Lalwani said A similar project to create ducts is also underway in Smart City area.
Officials of the development body said that they would also decide on appointing a consultant for large scale plantations and construction of gardens at Super Corridor.
The development body has planted more than 7,000 trees at Super Corridor and is planning to plant another 7,000 over the next few years. Apart from gardens, the trees will be planted on roadsides.
Source :
https://timesofindia.indiatimes.com/city/indore/ida-to-start-r8-cr-work-on-underground-ducts-in-spuer-corridor/articleshow/58674864.cms
BEST EVER BUILDER
Time to enhance your live presence!