Significance of perfect home location for homeowners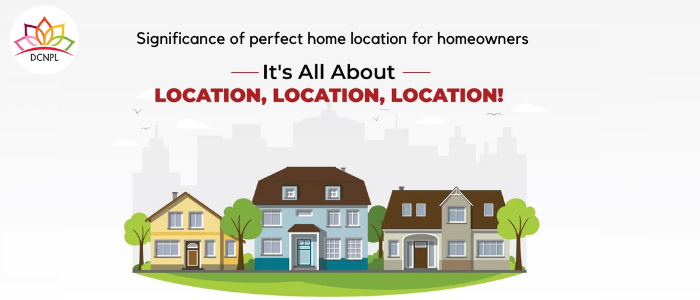 The most challenging aspect of house hunting is to search for a perfect location for your perfect home and the irony is most people are oblivious to it. Location is key to valuable real estate. The location is the aspect that determines the worth of your current investment in future.
Now that we are talking about location, have you ever wondered what appreciates the value of the home?
Supply and demand are two market forces that will always play a role in real estate's value appreciation. Housing supply in great locations is limited to the number of homes in that location. The location creates desirability, desirability creates demand, and demand raises real estate prices. People often purchase a home in a bad neighbourhood due to the low price but instead, you should always buy a home in a location that has potential for development.
Many realtors try to misguide homebuyers on the name of "safe neighbourhood" but have you ever considered that the location, which is safe right now, doesn't mean it's going to be safe in five years. Alternatively, just because the neighbourhood isn't safe right now, doesn't mean it won't be safe in five years.
Factors on which it depend which locality you should go with:
You plan to rent out your house

You have school-age children

You plan to eventually sell your home

You want a more ideal work commute

You need access to certain amenities
In a nutshell, the definition of best locality differs from person to person, some look after basic needs, some after safety, some after luxury amenities and the list goes on. However, potential homebuyers should think from a future perspective also, because it is the location that highly influences the value of the property.
Significance of the good location for property
Lifestyle gets influence - Your locality defines your lifestyle and lifestyle defines personality. You need to select the location that is according to your way of living. Often people purchase a house at the lower property, and end up purchasing the house in a backward location that decreases their lifestyle standards. You are required to select a place that suits you the best, particularly when you have long-term plans with your new house. The infrastructure, surrounding areas, and distance from the neighbouring cities are some of the important factors you need to take into account.


Amenities are crucial - In this fast-moving world, can you reside at the place, which has no amenities that may upgrade your lifestyle? Probably No! We live in a progressive world, thus, when you look forward to purchasing a property and your financial condition is also sound, you should go for a locality that is moving with the pace of this developing scenario and amenity is the factor that defines the precept of the place. The locality must have all the basic amenities such as electricity, water, transportation, education and health. However, if you are purchasing property as an investor, then look for a place that is likely to develop more amenities in future.
Above two factors are the pillars of the locality factor while house hunting. Apart from these two, there are many factors but those keep changing according to the preference of individuals.
In India, the real estate market works on location viability and these keep on fluctuating depending that differ from city to city. The prominent factors that drive real estate growth are the creation of infrastructure and the historic growth of price that the locality has seen. The real-estate market has always been the centre of attraction in the context of long-term investment. People have seen it as the route to the creation of wealth in the longer term.
Final Thoughts
Further moving…
Owning a property in Indore is the best deal.
If you are looking for a property in Indore to invest then, visit a prime location for property in Indore at super corridor one of the best residential areas to get your deal.
DCNPL Hills Vista at the prime location of the super corridor is the best place for property in Indore which provides luxurious 2, 3.and 4 BHK flats and plots at an affordable cost. Apartments are well-equipped with all the modern facilities. It has a swimming area and play area for relaxation and is surrounded by the greenery of the Super Corridor giving, a soothing and homely feeling.
We fulfill your lifestyle demands!!
Source: https://www.supercorridorindore.ind.in/super-corridor-blog/65/Significance-of-perfect-home-location-for-homeowners-Super-Corridor-Indore/