NEW LINK ROAD TO CONNECT SUPER CORRIDOR TO DHAR ROAD
Posted Date: Mar 26, 2019 | Posted By : DCNPL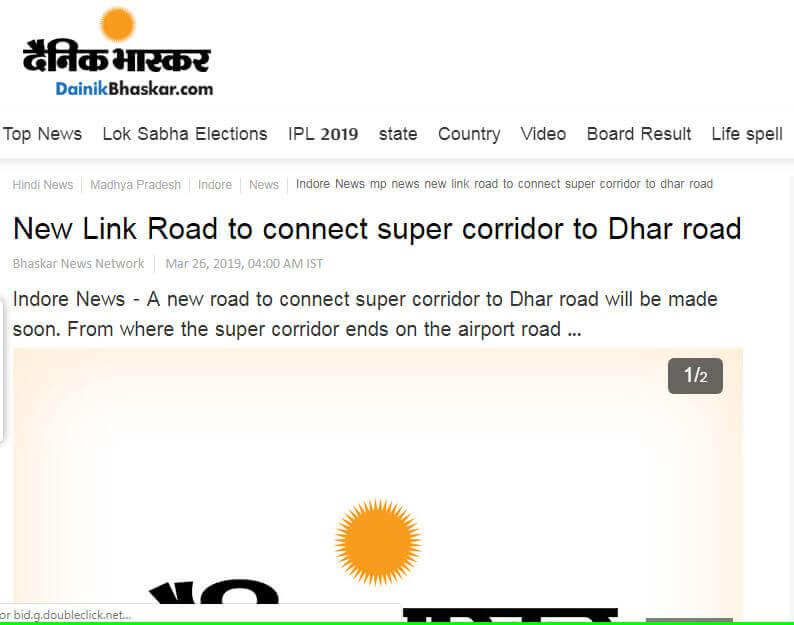 Indore News - A new road to connect super corridor to Dhar road will be made soon. From where the super corridor ends on the airport road ...
New road to connect Super Corridor with Dhar Road will be made soon. Where the end of the super corridor airport road ends, the widest road will start from 75 meters, which will be connected to Dhar Road near Naupada cult after about 2 km. Due to this road the airport will become the biggest intersection of the city on the road. The nearest railway station will be the first station. Its design is ready.
For the new road, the state government has allocated 236 acres of land to IDA. This land has been given in lieu of allotting land to TCS and Infosys. It has approved the cabinet and the urban administration department. Now the administration has to hand over the possession of this land, named after the IDA. Work will be started as soon as the possession is received, because the authorization has already been tender for this. After this road is formed, it will take the form of a Tiraha intersection, in which the road to the airport will be on one side. The second will link to the edge road. The third route will be towards Indapur city while on the side of Depalpur and Chatha Super Corridor. This would be beneficial for heavy vehicles going towards Ahmedabad, going straight through the intersection of Dhar Road linking this intersection.
The city's largest intersection will also be developed, nearby Metro station's
metro station,
Airport Road
Super Corridor
To make a separate power grid for the corridor IDA has given it, the IDA has given 15 acres of land out of 236 to the power company for the power system on 15 acres of super corridor. It had already given the land administration to the IDA. Here the power company will complete the entire system.
Metro
road is marked for the station, at the mouth of the Land Super Corridor, where a new road is proposed, on one side there will be a Metro train station. The land has been marked for this. In this way, it will be developed as the first intersection of the city, because the passengers will get the first crossroads to come to the city as soon as they come out of the airport.
Source :
https://www.bhaskar.com/mp/indore/news/mp-news-new-link-road-to-connect-super-corridor-to-dhar-road-040024-4199282.html
BEST EVER BUILDER
Time to enhance your live presence!